SweDigArch's activities will be organised through six modules (M's). Module 1 will coordinate the infrastructure and monitor its progress. Module 2 will develop and maintain the technological and ontological means to aggregate data from SweDigArch members, enrich metadata in accordance with FAIR principles, and develop and maintain technical means for open access to the infrastructure's data. Module 3 will ensure that geospatial data from archaeological excavations can be incorporated into the infrastructure. Module 4 will ensure the availability and integration of a broad range of interdisciplinary analysis data from archaeological science and palaeoecology, including macrofossils, geoarchaeology, osteology, radiocarbon, spectroscopy and aDNA (with M5) and more. Module 5 will ensure the technical preparedness of the infrastructure for future archaeological digital data, initially focussing on developments in remote sensing and 3D imaging, but including photogrammetric techniques, hyperspectral imaging, biomolecular methods and adapting to developments over time. Module 6 will interact with M2-5 and assure impact, capacity building, added societal value and an extended user base through support, communication and outreach activities, maintaining stakeholder interaction on principles of co-learning.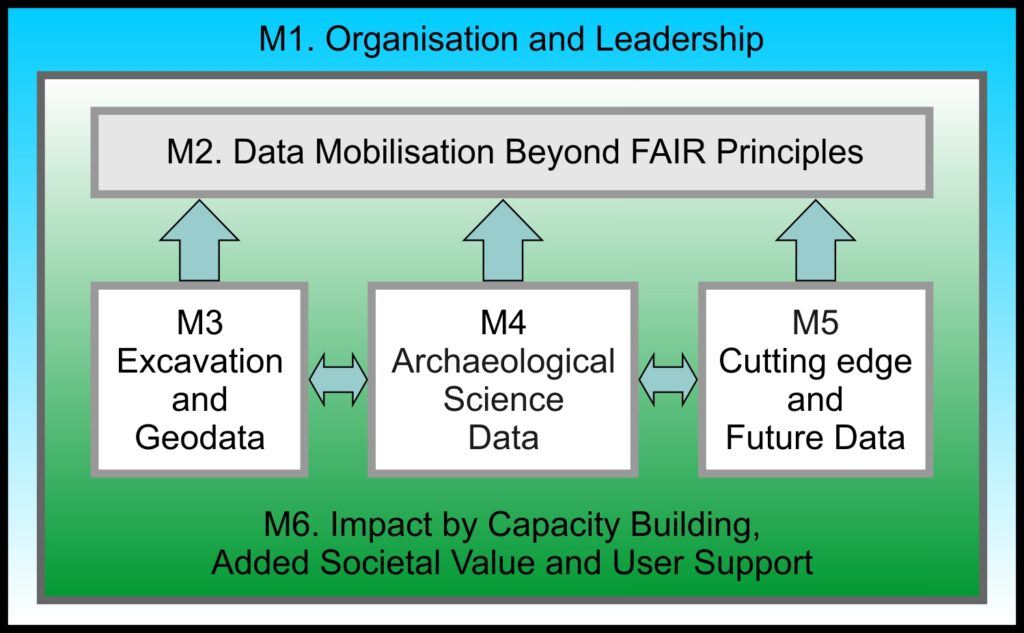 An overview of the planned technical implementation is shown below. M2, M3, M4 and M5 will (A) digitize, ingest, digitalise, and store highly detailed data and metadata, with persistent identifiers (PIDs), relevant for the research areas they address. These modules will develop (B) data models, GeoServer and server endpoints for delivering research quality metadata, PIDs and links to web aggregator services, which will make the data Findable and Accessible through (C) OAI-PMH (Open Archives Initiative Protocol for Metadata Harvesting) and open APIs (Application Programming Interface). This will provide access to SweDigArch and its resources through both (D) machine harvesting and human user interfaces. FAIR aggregated data at both highly detailed and more general levels will ensure a range of Interoperability options. Thematic data portals (D), and domain specific protocols and APIs (C) will allow experts as well as other infrastructures detailed access through data harvesting or alternative web interfaces, maximising the Reuse potential. SweDigArch will deliver these services by expanding upon the NHB aggregator service SOCH (Swedish Open Cultural Heritage). SOCH indexes metadata and generates URLs (Uniform Resource Locators) for Content Management Systems (CMS), databases and digital records from over 70 cultural heritage institutions: ancient sites, historical buildings, photos, artefacts, art works, archival documents, publications etc. However, SOCH's current data model and API are only developed for general public outreach, meaning most of the rich metadata stored in these databases are neither harvested nor made available for research. SweDigArch will make these resources available for a wide range of research users, provide thorough documentation and accessible websites, and facilitate access through external portals and software such as 'R' and GIS packages. The FAIR-principles are key to all SweDigArch functions, and we will complement these by adding guiding principles for improving data-driven science in archaeology (M5)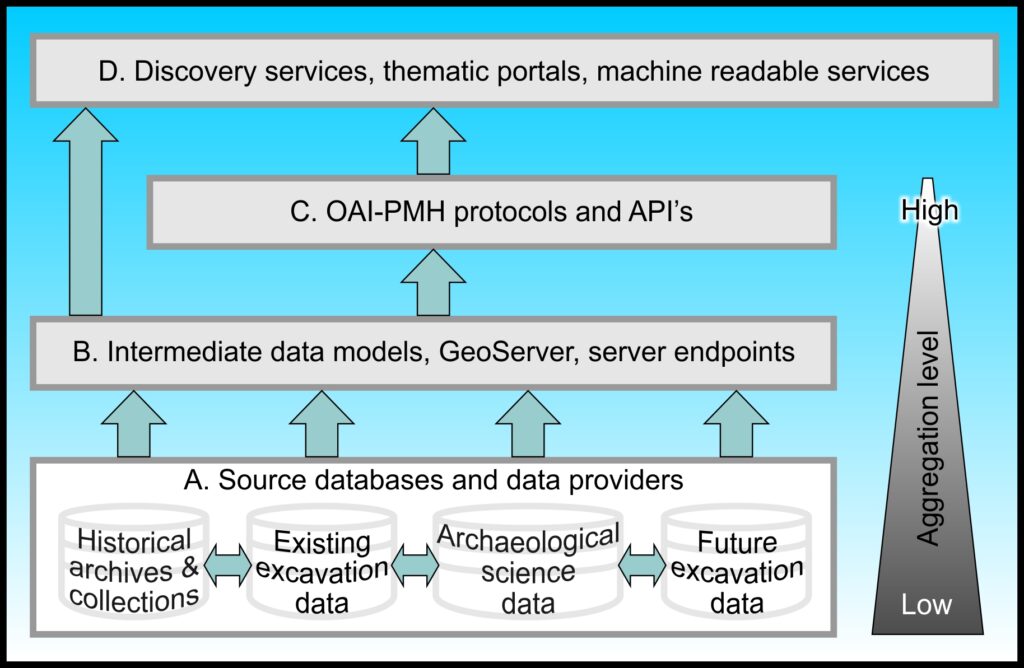 21 Partners, 8 Organizations
Uppsala University (UU): Department of Archaeology and Ancient History (UU-AAH), the Tandem laboratory (UU-TL), Centre for Digital Humanities (UU-CDH), SciLifeLab Ancient DNA (UU-SLL)
Umeå University (UMU): The Environmental Archaeological Lab (UMU-MAL), Humlab (UMU-Humlab)
Lund University (LU): Department of Archaeology and Ancient History (LU-AAH), Lund University Digital Archaeology Laboratory (LU-DARKLab), Lund University Humanities Laboratory (LU-Humlab), Lund University aviation School (LU-AS)
Swedish National Heritage Board (NHB): Units of Heritage Studio (NHB-HSt), Heritage Science (NHB-HSc), Heritage Data (NHB-HD) and Systems Development (NHB-SD)
Stockholm University (SU): Archaeological Research Laboratory (SU-AFL), SciLifeLab Ancient DNA (SU-SLL)
Karlstad University (KAU): Centre for Research on Sustainable Societal Transformation (KAU-CRS); Department of Political, Historical, Religious, Cultural Studies and Department of Environmental and Life Sciences, Geomatics (KAU-CRS).
University of Gothenburg (GU): Department of Historical Studies, Archaeology (GU-HSA)
National Historical Museums (NHM): Department of Collections and Research (NHM-CR), Department of Digitization and IT (NHM-DIT).